Modern Communal Living Spaces
The exponential rising costs of living and working in big cities has forced architects to become more creative in their approaches to housing the millennial population. Co-working spaces have become the normal for startups and freelancers, replacing the old-fashioned 9-5 office space.
With the waning popularity of the nuclear family, a new way of communal living has sprung up in locations around the world.
The Collective Old Oak Common, London, by PLP
Currently the world's largest co-living development, the Collective Oak Common received significant media attention when it open in 2016. With over 550 bedrooms, the common space was designed to offer residents enough amenities so that they never needed to leave the building.
"Nowadays people are just used to everything at a touch of a button," said Reza Merchant, CEO of the Collective behind the development. "It's essential to provide that same level of convenience and immediacy in the places where people live."
The key to its collective concept are the inclusion of shared communal areas in which residents can spend time, meet others, and build on the community feel. The building also features a dedicated co-working space, a restaurant, a gym, a cinema, a spa, and a launderette.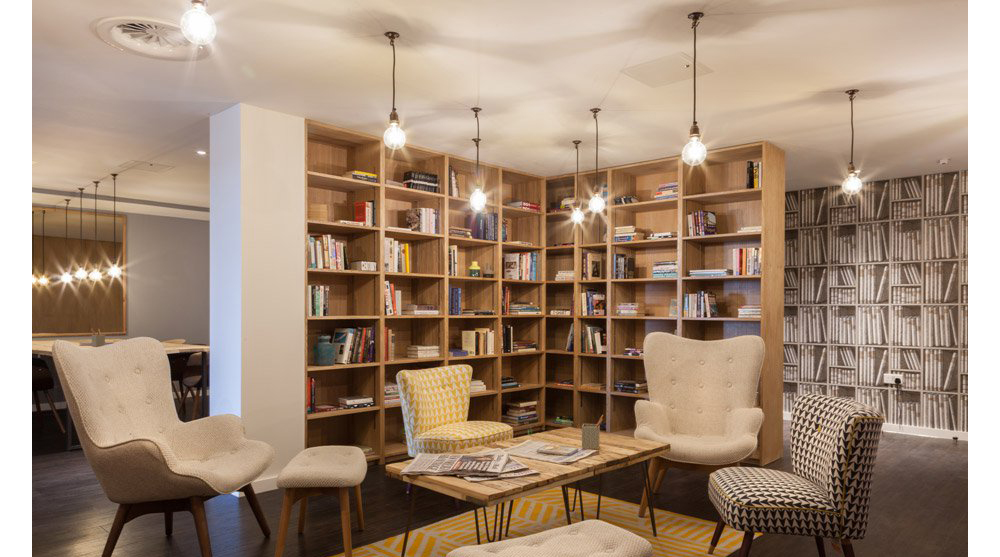 The Old Oak Common provides residents with a library where they can all read and work. Image source
The layout tends to centre around a small kitchenette shared between two small en-suite bedrooms located off long corridors. In addition to these 'twodios' there are also some private suites, for the fancier millennial.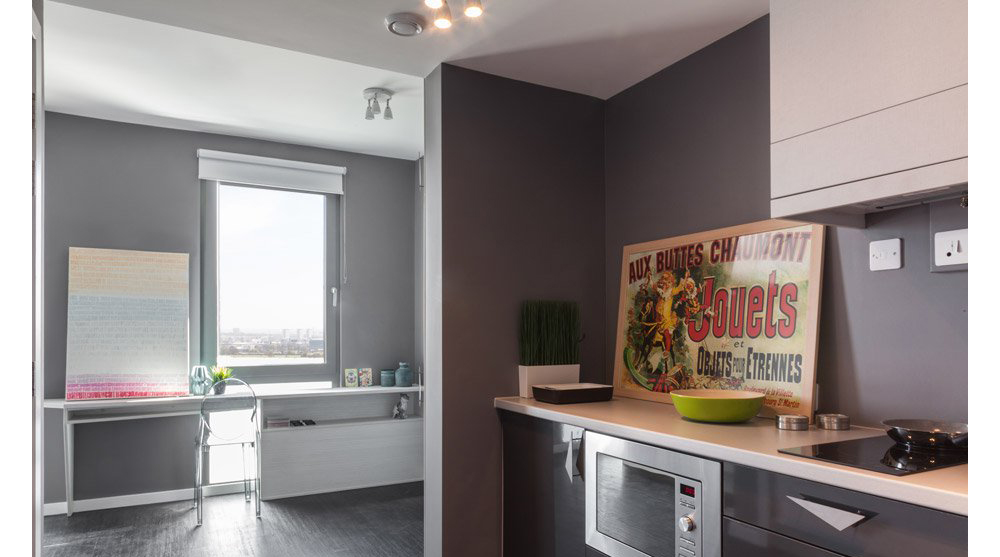 Single-occupancy studios have private kitchenettes and bathrooms. Image source
There is also a larger kitchen area with a dining table located on each floor. This space is shared between 30 to 70 residents. The Old Oak Common, like most co-living spaces, was designed with single, young professionals in mind, with comparatively low rent that includes all the necessary facilities.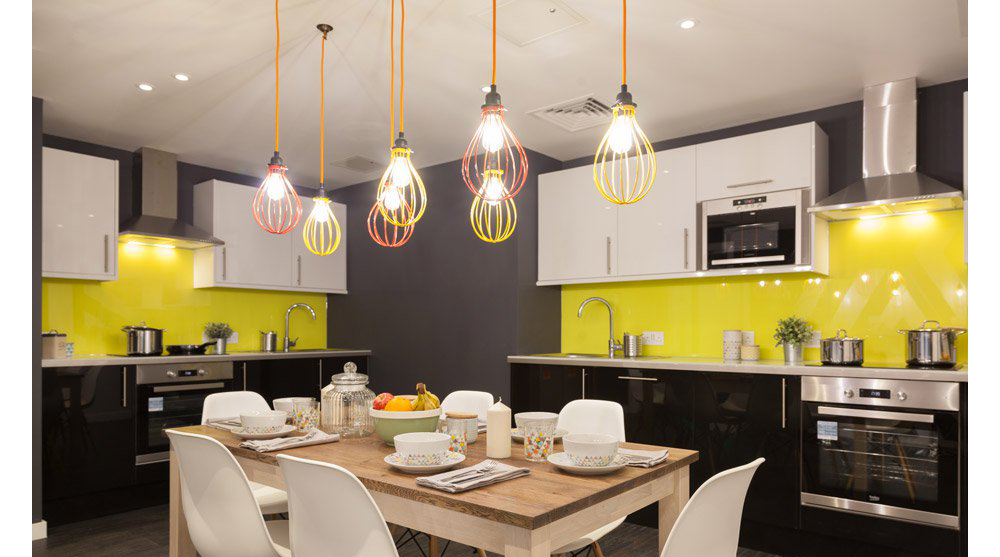 Each floor has a communal kitchen that is shared by 30-70 residents. Image source
WeLive, New York, by WeWork
WeWork is THE name in co-working spaces, with currently nine large-scale spaces operating in London alone. Therefore it makes sense that they were one of the first companies to expand over to co-living spaces with their WeLive brand. Converted from empty office space, their first co-living project featured 200 fully furnished serviced apartments.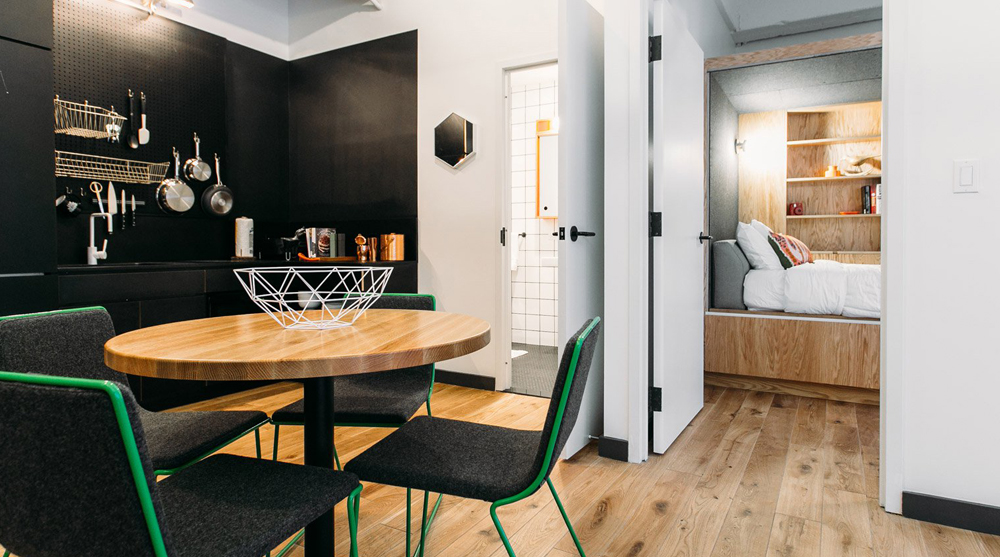 WeWork has introduced co-livining apartments in New York and Washington DC. Image source
WeLive gives residents the option to share units of have their own, with each unit including everything a young, hardworking millennial could need from bed linen, towels, shampoo, and kitchenware to internet, cable TV, beer, and even clothes hangers.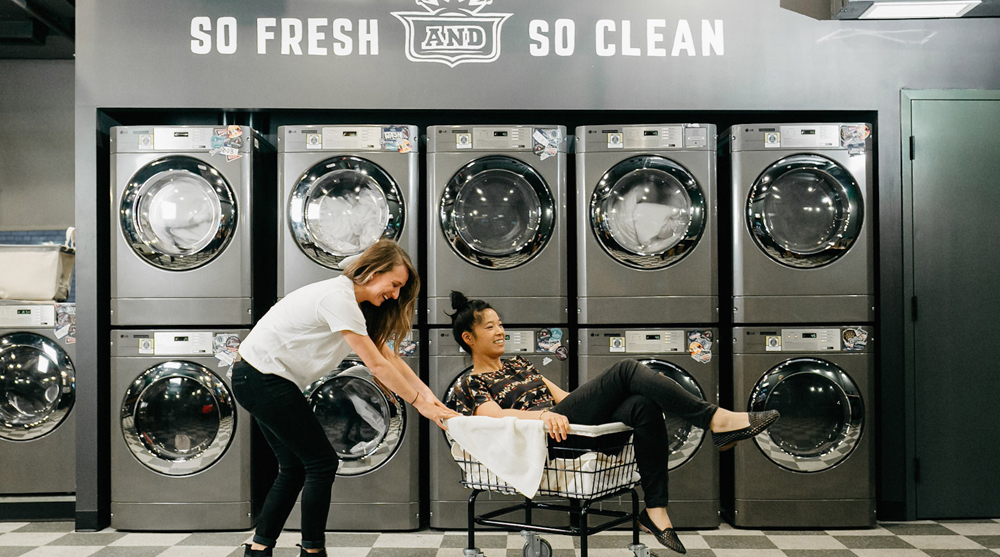 Communal resource in WeLive include a laundromat. Image source
The key to the WeLive's popularity is there communal events, which would include group meals, karaoke, and fitness classes, all provided within the cost of rent. There are currently two locations available for short-term lets, in New York and Washington DC, where residents can stay for a couple of nights or a couple of months in studios, 1 bedroom, 2 bedroom or 3+ bedroom units.
Roam Co-living Housing complex, Bali, by Alexis Dornier
Co-living is a movement, not just in large cities, but in communities around the world. Conceived by german architect Alexis Dornier, the Roam Co-living housing complex in Bali has been described as "a model of micro society".
Like the other co-living communities, resident of Roam have access to communal areas such as the rooftop lounges and sunbathing decks, and the swimming pool, as well as a kitchen, café, yoga area, and barbecue garden.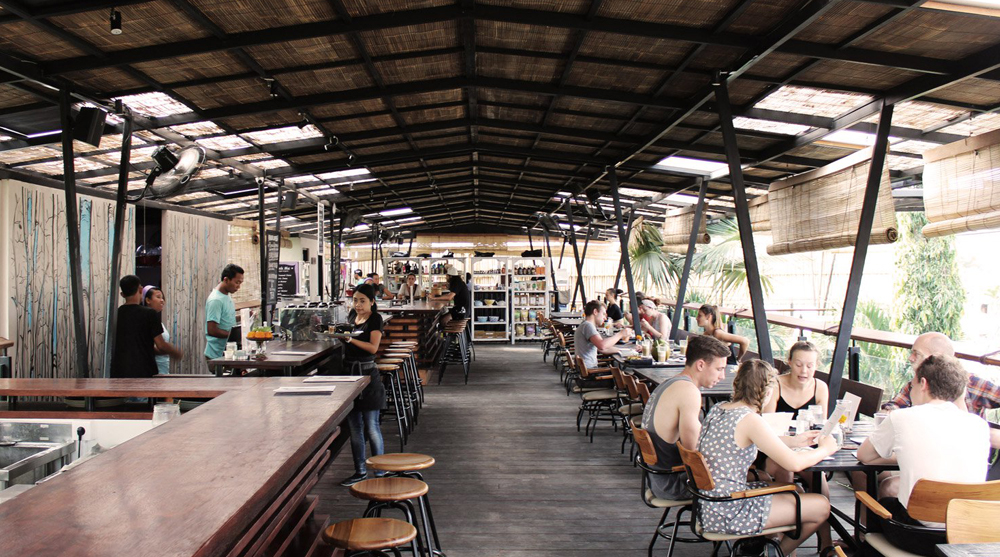 Roam Co-living housing complex in Bali, Indonesia by Alexis Dornier. Image source
Three former apartment buildings make up the structure of this U-shaped complex, previously having served as a boutique hotel. Walls were knocked down and new windows and bathrooms were installed, with the ground and first floors being converted into a series of bedrooms, each with their own private bathrooms and patios.
The communal areas are typically located in open-air spaces, predominantly on the roof and covered with a newly-installed canopy.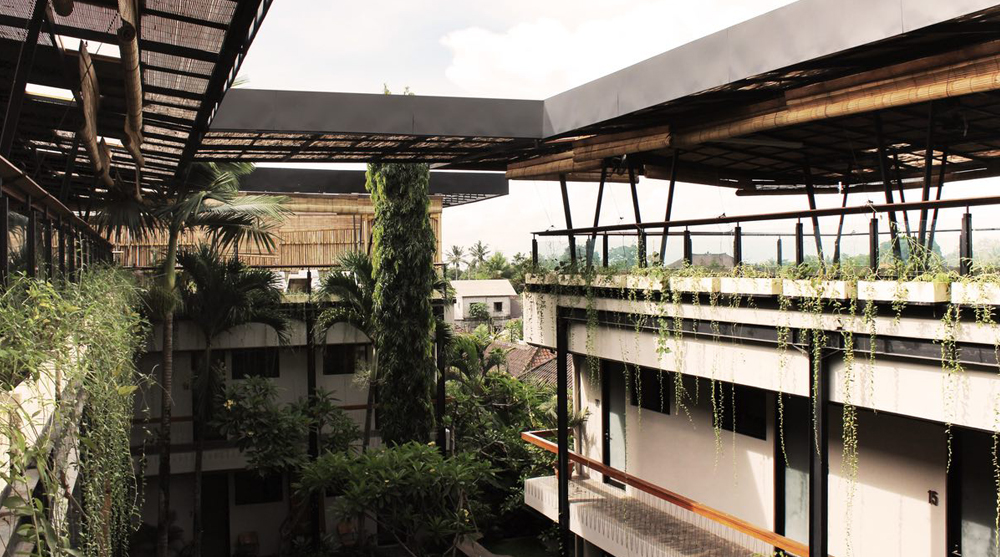 Communal areas are mostly open air spaces on the canopy-covered rooftop. Image source
The Bali property's defining difference as a co-living space is its connection to other Roam locations. As the name suggests, residents in Bali will have the option to move, or roam, between properties, with locations under development in London, Madrid, and Buenos Aires. As such, the architect created communal spaces that were in keeping with traditional Balinese design, combined with domestic details that are typical all over the world.
Yokohama Apartment Building, Japan, by ON Design & Partners
Designed by Osamu Nishida and Erika Nakagawa, the Yokohama Apartment complex shows that size isn't everything. The total floor area for the complex is 1636 square feet which is subdivided into two levels. Composed of four micro apartments, each residential unit measures just 215 square metres.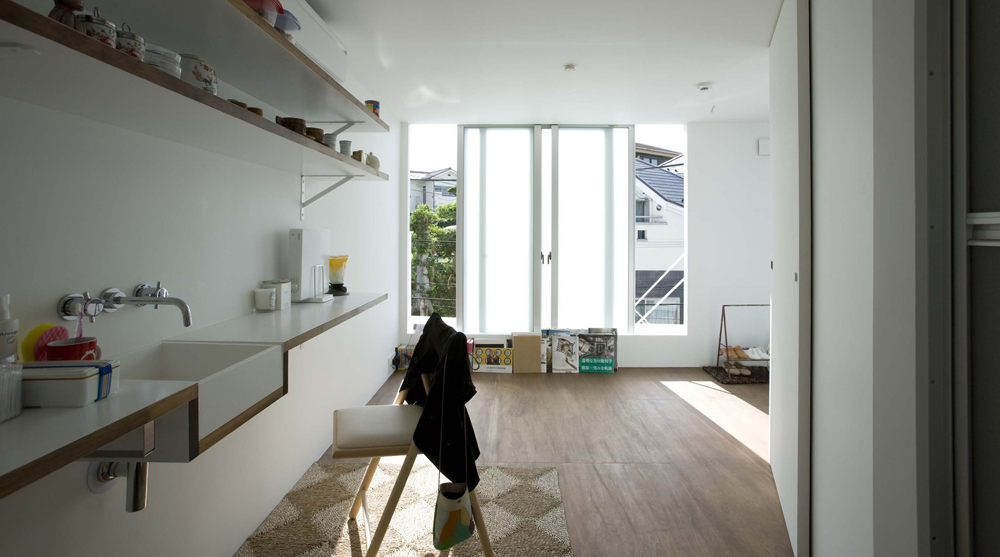 Yokohama apartments measure just 215 square metres each. Image source
Clever design makes the diminutive dwellings very liveable, and allows residents access to a shared open-air courtyard that acts as a living-room, as well as a kitchen the also doubles as an art gallery for the artists in residence.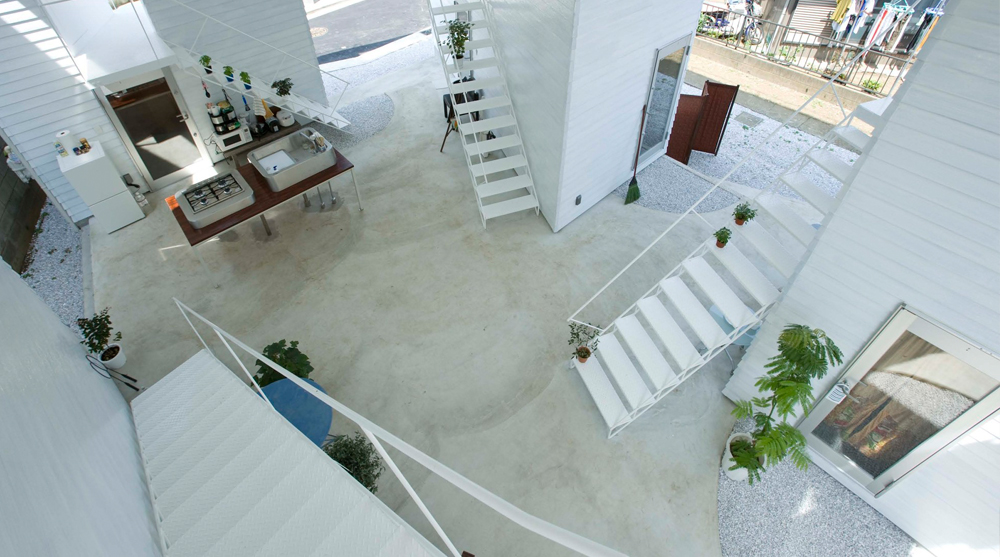 Yokohama apartments have separate entrances that respect their neighbours'' privacy. Image source
Each unit has its own access coming up from the ground floor, with twisted stairs providing access without compromising the other tenants' privacy.